Siren Radio
All posts tagged Siren Radio
Here are the details: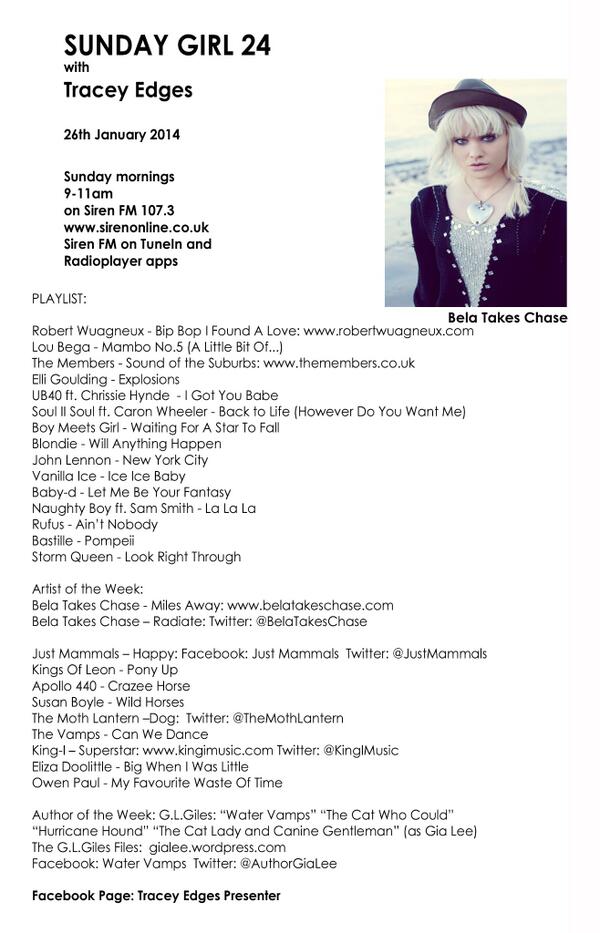 To say that Tracey Edges is a multifaceted artist is truly an understatement, for she is a visual artist, writer and has her own radio show at Siren 107.3 FM! She vividly explains how her visual artwork will oftentimes organically flow into her pieces of written work at her blog with, "I am a fine artist who primarily paints. My work is based upon the reality of my external experiences. I then abstract this reality to varying degrees. As an Artist I continuously observe and these observations sometimes materialize into the written word. This blog is a mixture of my personal reality and my imagination…" (http://www.traceyedges.blogspot.co.uk/).
GL: So great to be 'e-viewing' (e-mail interviewing) you, Tracey!
TE: It is lovely to be e-viewed, thank you!
GL: Please tell readers about your 'Sunday Girl' show at Siren 107.3 FM.
TE: Sunday Girl is 2 very packed hours where I feature an eclectic range of music from any decade, any genre, right up to the latest in the charts. I also make sure I play lots of indie artists as I love to promote them and get their great music 'out there'. I have an Artist of the Week, where I play two tracks and inform my listeners about the Artist. I also have a Book of the Week feature and The Sunday Girl Triple Play which are three back to back tracks with some connection. As I make up the connection it can either be quite obvious – such as the colour 'blue' or be a bit weird – such as 'songs with titles I particularly like'! I tend to think of the connection first and then try to find tracks to fit it. That can throw up tracks I've forgotten about or, alternatively, frustrate me when I don't have suitable ones and have to think up something else. I also feature famous people who have birthdays on the day of the show and there is always the Quirky Question – just for a bit of fun! I work really hard at my research, listening to all the music and writing all the features so it is rather time consuming but I do love doing it so that makes it easier. Although an eclectic mix I try to make my playlist flow as much as possible and tie tracks in to the features or people mentioned. It is a privilege being trusted to have total control over a show. It is definitely my baby and I do my best to look after it and it is great to watch it grow!
GL: Does it air every Sunday morning between 9-11 a.m.? It's based out of the UK, so when and how can USA listeners tune in?
TE: Yes, it is 9-11am but UK time so GMT or BST(GMT+1) depending on the time of the year. You can listen direct from my show page on the radio station's website: http://www.sirenonline.co.uk/section/shows/sunday-girl or via the free TuneIn or Radioplayer apps on any mobile device (or online). If within the Lincoln, England, area you can also listen in on 107.3FM
GL: Besides featuring cool bands and their music—like Blondie, Erasure, etc.—you also feature a Book of the Week and an Artist of the Week. How do you choose the featured book and the featured artist?
TE: Whether I am doing my Art, my writing or my radio show, I work in a very organic way this happens with the Artist and the Book features as well. Often people will message me on Facebook or Twitter and send me mp3s or books. I have accumulated both book and music mountains! I may have a book or track for months and then something will remind me of it and I will go in that direction. Sometimes it happens that, for example, a musician will send me tracks just as I am thinking about writing that week's feature and, if I think they are good, I will go with them. I will often get my Kindle out for a flick-through to see what books I have on there. For any e-book Authors who think that a cover isn't important – I beg to differ. A good, or intriguing, cover can get my attention and make me want to explore within the pages and possibly feature it. A bad cover will have the opposite effect. It's the very same as to why one book displayed in a bookshop will shout to you and make you pick it up over its quieter neighbours. I also have two anthologies called Off The Record. The first one is based on Record titles and the second, movie titles. Each book contains brilliant stories from about 40 different Writers. I often will go and have a delve in those to choose someone to explore further. I have to admit to having a short story in At The Movies and it is called 'Memento'. It is also on my short story blog and can be read here: http://bit.ly/1hTx3Od I have another blog which is a continuous story called PI GY. It explains what that means in the first part "The Beginning" which can be read here: http://bit.ly/19mi8WH These stories really need to be read in order. My first experience with Siren FM was when I recorded the first 8 episodes of PI GY for a radio series. That can be heard here: http://bit.ly/WnwZJO With typical Tracey-Timing, I had a really bad fluey cold when I recorded those and lots of coughing, croaking and sneezes had to be edited out!
GL: I love your organic and timely unfolding process, and I look forward to reading everything! Switching gears, have you ever had any negative feedback from your so-called "cringeworthy jokes?"
TE: No, I have been very lucky (or it may be due the permanent cotton wool stuffed into my ears so I don't hear any!) It tends to be more cringeworthy connections, than jokes as I will often connect tracks to features and they can be rather eye-rolling/tenous ones!
GL: I love that you employ humor like that! Now, what kind of local events do you cover? I know that you're a bit 'canine-crazy', like me, so are any of them animal adoption events?
TE: It tends to be events such as gigs/workshops/exhibitions and city-centre things to do. I did cover a request for people to take their animals to see how intelligent they were. The university (where Siren FM is based) was doing a research project about what dogs 'read' from their environment/your face etc. As much as I love 'causes' I try to keep the content light as it goes out on a Sunday morning. 2 of my 3 dogs are rescues and I feel very strongly about that issue. If I won the Euromillions I would love to open a rescue home for dogs.
GL: Awesome! I think I'd swim 'across the pond' to be able to hang out in a cool canine rescue home like that! I know that you're also a great exhibiting artist. Where has your artwork been displayed? Which mediums do you work in?
TE: I have had work displayed in Galleries both locally and nationally and had several solo exhibitions. I have received fantastic feedback from them so that is definitely one achievement ticked off my bucket list from being young. My Grandfather was an Artist so I grew up with the smell of oil paint. I am far too impatient for oils though, even though I do like using them. I find I use a mixture of high quality heritage emulsion paints and acrylics plus whatever I feel is going to enhance a painting as I am doing it. I may suddenly start scribbling over the paint with pencil or throw ink at it. I just go with the flow and what feels right at that moment. I usually start off from an experience that I have photographed. I mess about with the photograph on my computer and take it away from the visual reality. I then use this photograph as a start to my painting. I always know where I am starting from but never how it is going to finish, or when – it may be in 5 minutes or 5 weeks. I am the same with my writing – I let the story unfold as I go along. I did an interview for Estuary Radio and a slideshow of a smaller exhibition – called Eclectic and this can be seen here: http://bit.ly/UwF1on
GL: Where can readers go to connect with you and your wonderful work?
TE: All of my work is in my photo albums on my Facebook profile which is: Tracey Edges. I have a page for my radio show: http://www.facebook.com/traceyedgespresenter and I have a woefully out of date website at: http://www.traceyedges.co.uk All my links can be found on my http://www.about.me/traceyedges page.
GL: What's on the horizon for 2014?
TE: Firstly, to update my website! I also need to sort out my time management skills so that I have time to put into all 3 of my main projects: Art/Writing/Radio. I've tried to sideline one or two but I just can't do it – I love doing them all and have wanted to do all since my schooldays. If anyone has a day-stretcher please let me borrow it. I wouldn't sleep or eat if I didn't have to. Lots of Art, Radio and Writing ahead – watch this space!
GL: Thanks so much, Tracey! Truly my pleasure!
TE: You are welcome and thank you very much for asking me.